TechAdvance™ Technology Assessment Tool
Inventor Profile
TechAdvance™ is a product of Innovative Futures Institute, a boutique consulting company that supports organizations in their innovation efforts. The Innovative Futures Institute provides research-based consulting services to business and universities worldwide, as well as professional training.
TechAdvance™ was originally created in 2010 by Todd Davey, Thorsten Kliewe and Arno Meerman and commercialised through apprimo, a spin-off company of the Science-to-Business Marketing Research Centre at Münster University of Applied Sciences in Germany.
Further information can be found on:
http://www.ifuturesinstitute.com
Log-in
Award
TechAdvance™ received TAKE IT UP award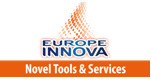 Handbook
The TechAdvance™ Handbook is a paper-based handbook designed to allow the assessment of research and technology projects.
Contact
If you have any questions or concerns, please do not hesitate to contact us!

Contact person:
Todd Davey | Victoria Galan Muros