TechAdvance™ Technology Assessment Tool
TechAdvance™ Introduction
Why TechAdvance™?
TechAdvance™ was developed in order to align research and technology projects with the market early and to encourage consideration of issues likely to confront the project as early as possible in the process of commercialisation. The mind-set for this approach is that the earlier a research and technology project can find or align itself with a market, the greater the likelihood that it can solve a market need and therefore be more likely to be successful in the market.
TechAdvance™ is designed to assist in the assessment of research and technology projects for their commercialisation potential. Successful new products and services have the potential to provide significant profits and growth opportunities for firms, however, many technologies with the potential to deliver these benefits, fail to make it to market. The early assessment of technologies as well as their alignment with the market early in their development is a key way to increase the chances of technologies becoming successful products and services. A further impetus to proactively apply assessment processes such as this is the decline in funding available from the government for research. This situation means that research and technology projects have a greater incentive to be market aligned in order to maximise their chances of success.
The method will help technology managers, commercialisation officers, business development managers, venture capitalists, researchers and others involved in the commercialisation process in the assessment of research and technology projects.
Log-in
Award
TechAdvance™ received TAKE IT UP award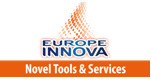 Handbook
The TechAdvance™ Handbook is a paper-based handbook designed to allow the assessment of research and technology projects.
Contact
If you have any questions or concerns, please do not hesitate to contact us!

Contact person:
Todd Davey | Victoria Galan Muros