TechAdvance™ Technology Assessment Tool
Welcome to the TechAdvance™ Online Tool
A method for assessing the commercialisation potential of research and technology
The TechAdvance™ tool provides a practical framework for the assessment of research and technologies to identify those projects with the greatest potential for commercialisation.
Developed through research and in collaboration with commercialisation practitioners and partners,
TechAdvance™ supports the difficult task of managing research technological commercialisation
. It directly addresses the need to improve the success rate of research and innovation projects and provides a more organised and transparent system for the assessment and improvement of those projects.
TechAdvance™
is easy to understand and implement
allows better informed decision-making about the commercialisation potential of research or technology
is custom-designed for research institutions
provides an assessment method backed and validated by research
is suitable for use in a diversity of organisations
is flexible to the needs of the host organisation as the model allows customisation
Outcomes that can be achieved using TechAdvance™:
Assessment of research projects (Assessing)
Prioritisation of research projects within a portfolio (Structuring)
Identification of project issues (Risk Management)
Guidance of the development process (Developing)
Three versions of TechAdvance™ are available:
Online Version - The online version of TechAdvance™ is accessible for an investment of $US399 for a one year license to use the tool. Further information.
Handbook - Alternatively the TechAdvance™ Handbook is available for $US249. Further information.
Intranet - Seeking a TechAdvance™ version exclusively for your internal use? Please contact us for further information.
Log-in
Award
TechAdvance™ received TAKE IT UP award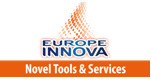 Handbook
The TechAdvance™ Handbook is a paper-based handbook designed to allow the assessment of research and technology projects.
Contact
If you have any questions or concerns, please do not hesitate to contact us!

Contact person:
Todd Davey | Victoria Galan Muros