TechAdvance™ Technology Assessment Tool
Inventor Profile
TechAdvance™ is a product of apprimo, a spin-off company of the Science-to-Business Marketing Research Centre at Münster University of Applied Sciences in Germany. apprimo provides research and consulting services and conducts workshops in innovation and marketing.
Further information can be found on:
http://www.apprimo.com
Log-in
Award
TechAdvance™ received TAKE IT UP award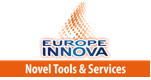 Handbook
The TechAdvance™ Handbook is a paper-based handbook designed to allow the assessment of research and technology projects.
Contact
If you have any questions or concerns, please do not hesitate to contact us!

Contact person: Todd Davey Phone +49 (0) 251 202 45 12